[onepage]
[gallerypage]
First Lady Michelle Obama escaped her presidential duties and joined British comedian James Corden to show off her karaoke skills.
A hidden talent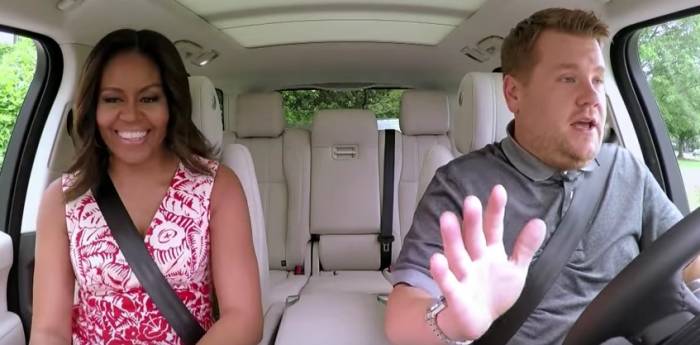 Carpool Karaoke is a show that is usually filmed in Los Angeles and features Cohen and a famous person driving in a car and singing to popular songs on the radio. The show hosted famous guests including Stevie Wonder, Justin Bieber, and Adele. This time, James Corden went to the White House to partake in a karaoke session with Michelle Obama and Missy Elliott who later joined the party as a surprise guest. During her ride, Obama sang to Stevie Wonder's Signed Sealed Delivered I'm Yours, Beyonce's Single Ladies and This is For My Girls, which is the anthem of the Let Girls Learn initiative, and Missy Elliott's Get Your Freak On. Michelle Obama took advantage of the occasion to promote the Let Girls Learn initiative, which aims to "invest in new efforts to expand educational opportunities for girls."
"Right now there's 62 million girls worldwide that aren't in school,"she  said. "So much could be corrected in the world if girls were educated and had power over their lives," Obama added.
Michelle Obama admitted that this was the second time in 8 years that she has been allowed to ride in the front seat of a car, the first time being when she was teaching her daughter Malia how to drive. She also revealed her and her husband's secret service code names.
[/gallerypage][gallerypage]
Watch the video below:
SEE ALSO: Here's Why Barack Obama Will Be Missed At The White House.
[/gallerypage][/onepage]