[onepage]
[gallerypage]
Education should be a right and not a privilege. While most of us are fortunate enough to have access to public transportation or personal means to go to school, the following children risk their lives every day for the sake of knowledge. Talk about determination!
1. Long walks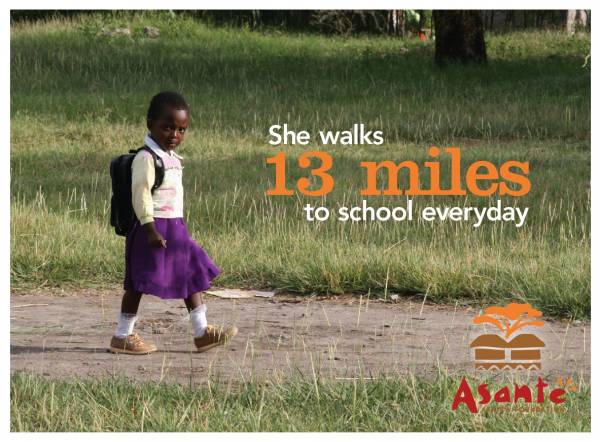 Several African kids walk miles to earn an education.
[/gallerypage]
[gallerypage]
2. Acrobatics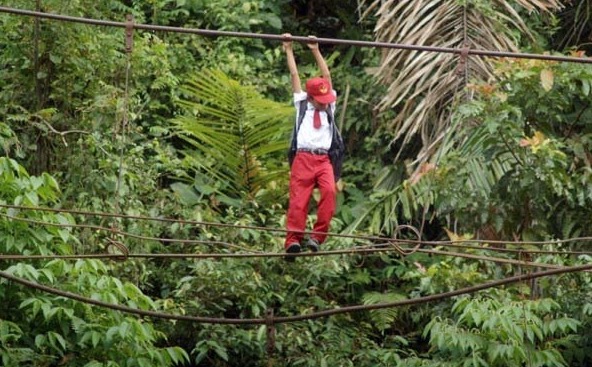 In Sumatra, Indonesia, some pupils from the Batu Busuk village do not have any option other than to tightrope walk 30 feet above a flowing river, and to walk an additional 7 miles through the forest to make it to class. The kids adopted this routine after a suspension bridge collapsed in heavy rain a few years ago.
[/gallerypage]
[gallerypage]
3. Defying gravity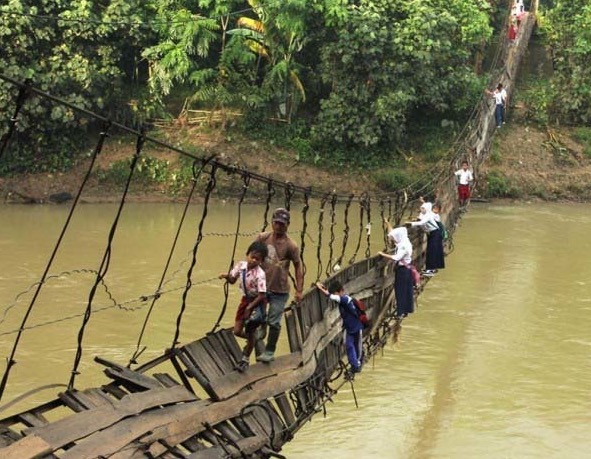 Here is another dangerous bridge that residents of the Indonesian village of Sanghiang Tanjung have to cross to make it to school. There is an alternate bridge, but people prefer risking their lives crossing this dangerous bridge instead.
[/gallerypage]
[gallerypage]
4. Aqueducts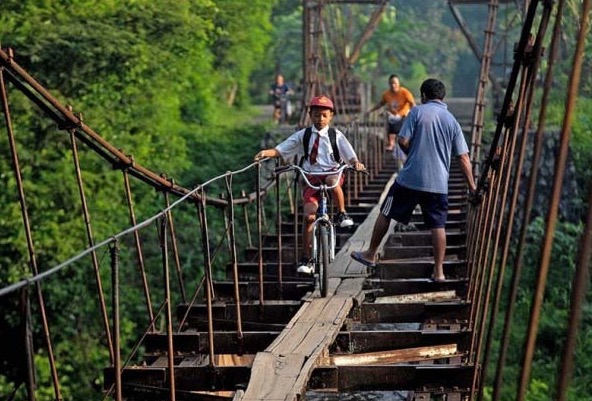 Suro children are not afraid to take big risks. The children of this Indonesian village cycle their way over an aqueduct that separates Suro and Plempungan, a neighboring village in Java Indonesia. Although this transportation option is extremely dangerous, law enforcement officers have yet to enforce safety measures to protect the children.
[/gallerypage]
[gallerypage]
5. Tubing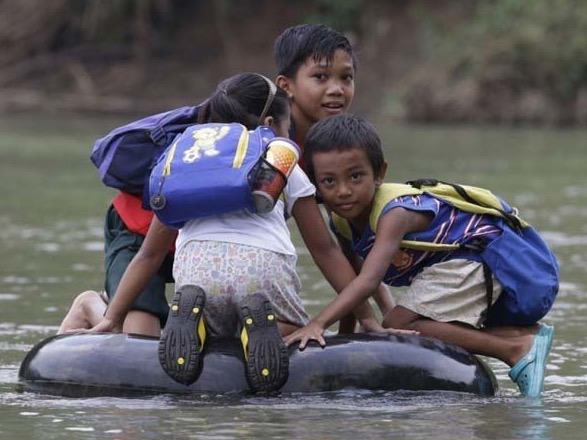 Inhabitants of the Rizal village in the Philippines use inflated tires to cross a river, and then they walk for another hour to get to school. Residents have petitioned the local government to build a bridge.
[/gallerypage]
[gallerypage]
6. Swimming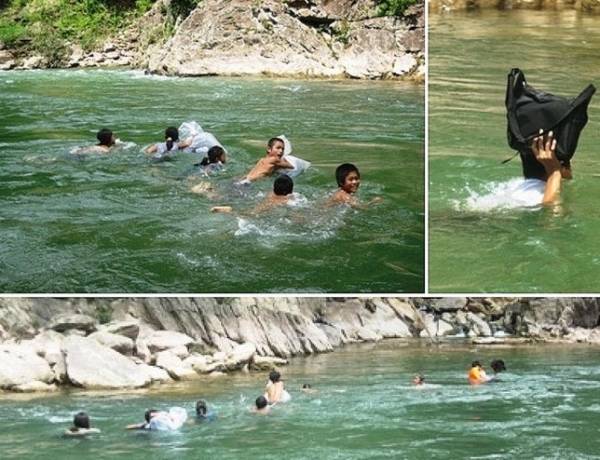 In the Trong Hoa commune in Vietnam, some children swim twice a day across a river to make it to school. They have to put their belongings in a plastic bag on a daily basis to avoid all books and clothes from getting wet. The river is 50 feet wide and 65 feet deep.
[/gallerypage]
[gallerypage]
7. High altitudes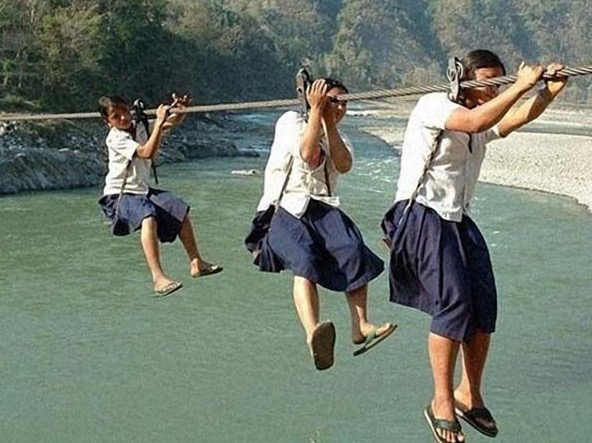 Gondola bridges are very common in Nepal. In some areas, children use the handcrafted bridges to go to school. The bridges are so dangerous that several NGOs are advocating for the construction of safer bridges in the country.
[/gallerypage]
[gallerypage]
8. High sensations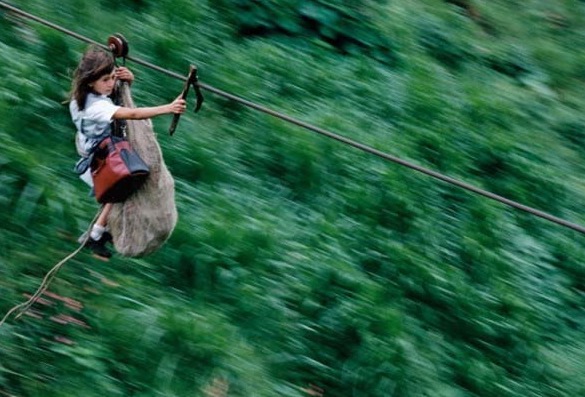 In Colombia, children who live in the rainforest commute via cables that connect one side of the valley to the other. It is the only means of transportation they have. The cables are installed 1300 feet above the roaring Rio Negro.
[/gallerypage]
[gallerypage]
9. An assault course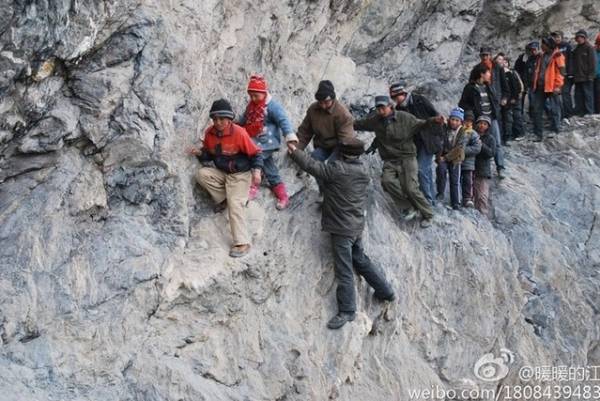 In China, all children who are enrolled in the boarding school at Pili, embark on a 120-mile journey through the mountains of Xinjiang Uighur Autonomous Region, at the end of their term. This field trip occurs four times a year and two days to complete. The trip involves camel riding, climbing a cliff face, crossing freezing rivers, and sliding down a 600 foot-long zip line. The Chinese government is in the process of building a road between Pili and the school for safety reasons.
[/gallerypage]
[gallerypage]
10. Determination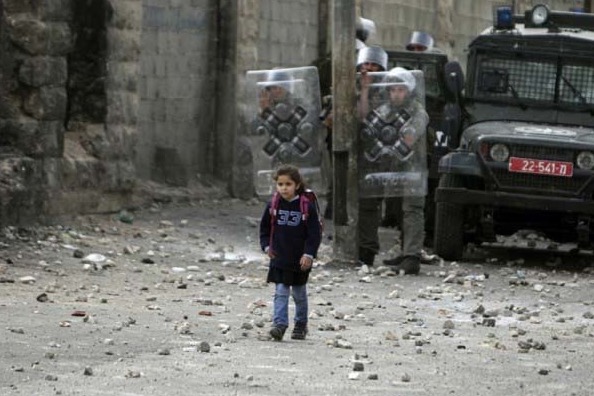 During clashes between Israeli troops and Palestinians in the refugee camp of Shuafat, near Jerusalem, a young girl walks with determination towards her school, barely paying attention to the violence around her.
sources: amusingplanet
SEE ALSO: 24 Million Children Living In Conflict Zones Cannot Attend School
[/gallerypage]
[/onepage]