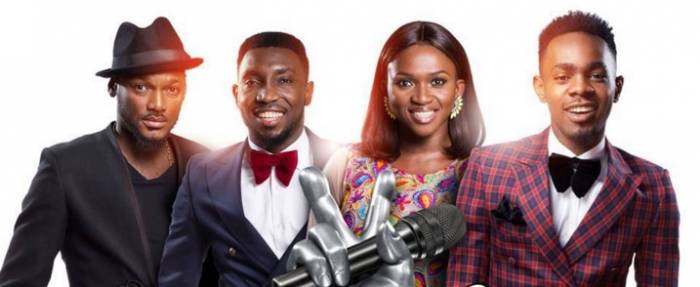 Reality singing competition The Voice has become an international phenomenon. It has finally arrived in Nigeria. The Voice Nigeria premiered on Sunday, April 10th. It will play on Africa Magic Showcase Channel 151 and on Africa Magic Urban Channel 153, Sundays at 8:00pm. Nigerian singers Waje, 2baba Idibia, Patoranking and Timi Dakolo are the coaches. The show is hosted by Nigerian radio and television personality Ik Osakioduwa and MTV Base Africa's Stephanie Coker.
Finding new talent
If you are unfamiliar with the format of The Voice, it is a show based on "blind auditions." The coaches are faced away from the contestants so that they can only hear their voice; they cannot see how they look. If a coach likes what he hears, he hits a button and his chair will turn around to face the singer. If only one coach hits the button, the contestant automatically joins that coaches' team. If more than one turns around, the singer gets to choose which team he wants to be on. After the teams are formed, the contestants are trained by their coaches as well as by guest judges, and battle it out for the title. The Regional director of M-Net West Africa, Wangi Mba-Uzoukwu, said:
"The show holds a lot of potential for the discovery of new musical talents, and also promises to be an exhilarating ride, as we kick off with our amazing presenters. We have no doubt that the next great talents, who will do Nigeria proud, are about to be discovered."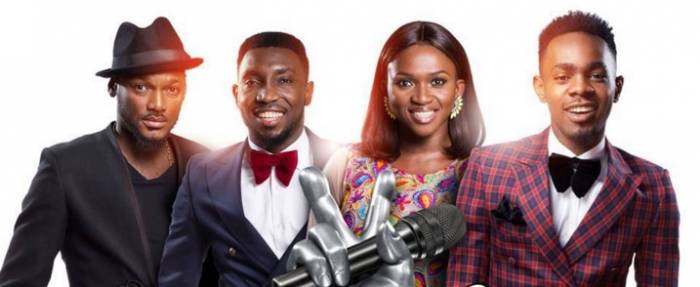 Starting off strong
The show began with a high energy performance by the coaches. They collaborated on 2baba Idibia's song "Implication." Then the very first contestant was auditioned, 17-year-old Emem from Akwa-Ibom. She was a law student, but her true passion has always been music. Despite her father's wishes, she dropped studying law to pursue her passion. She auditioned with "No Be You" by Waje. The show began with a bang as all four coaches turned around. Waje was impressed, as she believes that "No Be You" was one of the hardest songs of her career. Emem decided to go for Team Waje.

Other exciting moments from the premiere
The premiere was a rollercoaster of emotional and exciting moments. One such moment was when 30-year-old, Tobore Ezekiel auditioned. He performed R-Kelly's "If I Could Turn Back The Hands Of Time." Just when it seemed like none of the judges were going to turn around for him, 2baba Idibia hit his button. Another highlight was the audition of 24-year-old Gabriel Songs. He shared that he had a hard childhood and that his father had abandoned his family. He had the full support of his mother, who accompanied him to his audition. His rendition of "Jealous" by Nick Jonas got all four judges to turn around. Once he was backstage, Gabriel wept with joy and pulled on everyone's heartstrings.  At the end of the episode,Team Waje and Team 2baba each had two members while Team Timi and Team Patoranking had one.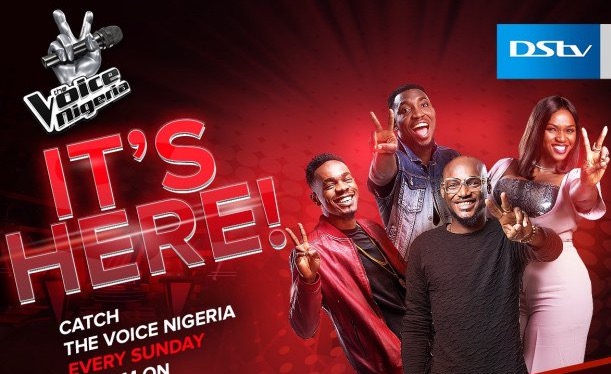 Tune into next week's show to see all of the excitement and talent! You can follow developments and join the discussions on Twitter with the hashtags #TheVoiceNigeria, #TeamWaje, #Team2baba, #TeamTimi, and #TeamPatoranking.
SEE ALSO: 10 Unbelievable Ways Music Will Heal You.